Studies show that having celebrity endorsers results in positive pay-offs and are also associated with increasing sales. Big businesses certainly have the capabilities and the financial chest to sign-up the likes of Jennifer Aniston and George Clooney to send out a good word about their products and services, but SMEs and startups find it impossible to employ this marketing strategy.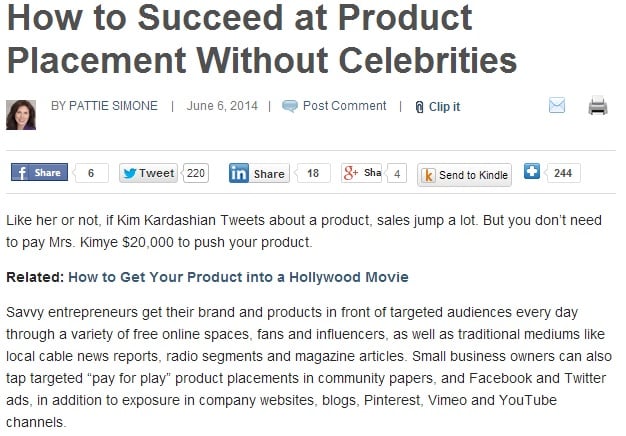 Pattie Simone, president of a New York-based marketing-advantage firm, has written an article for Entrepreneur that says businesses can succeed at marketing their products and services even without the help of celebrities:
"Savvy entrepreneurs get their brand and products in front of targeted audiences every day through a variety of free online spaces, fans and influencers, as well as traditional mediums like local cable news reports, radio segments and magazine articles. Small business owners can also tap targeted "pay for play" product placements in community papers, and Facebook and Twitter ads, in addition to exposure in company websites, blogs, Pinterest, Vimeo and YouTube channels."
The digital age democratized a lot of things and even brought businesses the best tools to reach out to their market. Opening a Facebook page or a Twitter account, however, does not guarantee that entrepreneurs will be successful at launching their goods and immediately reap financial rewards. Businessmen need to remember that marketing foundations are still important in this era and getting a San Diego business coach helps in applying these concepts to practically every online platform available.
Small and medium enterprise (SMEs) owners have a lot to learn about running a business. Experienced consultants, such as J. Bergman Consulting, provide business coaching in San Diego that makes sure neophyte (and even seasoned) companies are equipped with the necessary skills to do business in this day and age, especially in marketing their products and services.
Marketing is an important aspect for any commercial endeavor as this is the tool proprietors rely on to translate potentials into realized revenue. This is also a piece of trade that lets businesses get insight from existing and potential clients about their needs on certain products and services. Many have effectively employed techniques business coaches taught them to improve their products and give better customer service.
The presence of social networking sites and the ease of creating a business website made learning the foundations of launching a successful marketing strategy more important for up-and-coming companies. There is no shortcut to success and even the highest paid celebrity endorsers cannot deliver that. Entrepreneurs need to take the time to learn and business coaching will provide them the knowledge and skills to greatly market their good and services online and offline.
(Source: How to Succeed at Product Placement Without Celebrities, Pattie Simone, June 6, 2014)